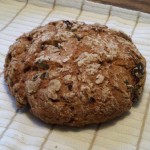 First, there was "One Hour" Bread.  Quick and yummy whole wheat bread.  Then, there was Chocolate Pecan "One Hour" Sweet Bread.  Quick and yummy and sweet!
Now, we have Sun-Dried Tomato and Basil "One Hour" Bread.  Quick and yummy and savory!
Use the basic "One Hour" Bread recipe https://prettyveggie.com/food-photos-how-to-2/one-hour-bread/ with the addition of these ingredients.
"Moist" Sun-Dried Tomatoes- one 3 oz. package
Tomato Paste- 2 T*
Chopped Fresh Basil- 1/2 oz. chopped (mainly leaves)**
When making the recipe, combine all dry ingredients.  In another bowl, mix the tomato paste into the beer, and then add tomato/beer liquid to dry ingredients and continue with recipe.
Ohhh…..   yum.  Enjoy!
*Check "Tips and How-To" for how to store the extra tomato paste.
**The packaged fresh basil in the produce department usually comes in 1/4 oz. or 1/2 oz packages.