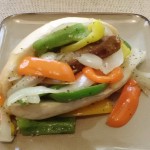 This time I must be channeling my mother.  She used to make Sausage and Peppers ALL the   time, and I haven't thought of it in years.  Last time I must have been channeling my father.  He liked franks and beans, and sauerkraut, and I hadn't thought of that in years, either!
Sausage and Peppers…. SO easy.  Take a look!
Sausage- Veg Italian Sausage *
Onions- sliced
Peppers- green, red, yellow, orange- sliced
Sub rolls- good ones!
Basil, Oregano- dry is fine
Garlic- fresh chopped is best, but up to you!
Olive Oil
(Wine or broth)
Salt
Red Pepper Flakes- if you like it hot
Sautee the sausage on medium in a bit of olive oil until browned all around.  Remove from the pan, set aside, and put sliced onion in the same pan.  Raise heat a bit.
Sautee until the onion is just starting to caramelize (brown around the edges), and add peppers to the pan.  When veggies are softening add some garlic, basil, oregano, and salt.
Stir and taste.  Does it need more garlic?  Add a little more.  A little more basil or salt?  Add a bit more.  A dash of white wine or broth is great.  Red pepper flakes, if you want to spice it up.  When it tastes just right, add the sausage back to the pan, either in whole links or cut in pieces.
Cut open sub rolls, and "stuff" sub roll with sausage, peppers, and onions.  So good, and so easy!
This can be eaten as a sub, or with bread on the side, or on pasta, or with red sauce added.  Just think of the combinations you can come up with!
Enjoy!
*Tofurky and Lightline make veg "Italian" Sausage