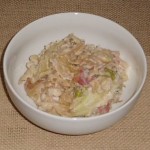 I know, I know.  WHITE potatoes aren't good for you, but once in a while you just have to indulge.  I use a whole head of cabbage, so I feel a little better knowing this is very veggie.  How I decided to make Colcannon, I don't know, but I'm happy I did, because it's delicious......   and addictive!  So, be careful!  (And just so you know, this photo does NOT do the dish justice.  Too white-on-white!)
Medium to Large Onion- Sliced
Medium Cabbage- Sliced into "bite size" pieces
Veg Bacon- 1/3 to 1/2 package (Morningstar), sliced in 1" pieces
Mashed Potatoes- approx. 6 cups, home-made or prepared*
Splash of Veg Broth
Salt and Pepper
Canola Oil
Sautee onion in small amount of oil until becoming opaque.  Add "bacon" and continue sautéing.  Add small amount of oil if necessary.
As onion starts to brown, add cabbage and stir to mix ingredients.  Stir on and off as cabbage softens.
Add a splash of veg broth, scrape up any bits on the bottom of the pot, stir, and put top on pot to continue to soften cabbage.
When cabbage is cooked as you like (I like it with a bit of crunch left), add some salt and pepper, and mix in the mashed potatoes.  Stir well, heat through, and eat!
SOOOOO good.  Yum!
*If using packaged mashed potatoes, only microwave for a couple of minutes.  Fully heated is not necessary since its going in the pot!