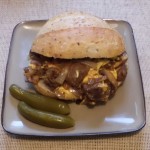 Why I suddenly decided I HAD to have a Philly Cheese Steak sandwich, I just don't know.  I've never had one.  I must have heard someone mention it on TV and it stuck with me.  So much so, I had to buy the ingredients that day.  I actually keep an assortment of ingredients on hand so I can cook on short notice, but needed to find a really good, fresh roll to use for the sandwich.  I seem to recall that a long bun of some kind is typical of this "sandwich," but I wanted CRUNCH, and I got a really great, BIG, multi-grain roll.  This is so easy, and so yummy.
Veg meat- 1 package.  I used Gardein Beefless Tips.
Mushrooms- sliced
Onion- sliced thin
Cheese- I used non-dairy.
Crusty, Fresh Multi-Grain Roll
Oil
Garlic
Green Peppers- sliced*
Worcestershire Sauce*
Mustard*
Pickles
Sautee the meat in a little oil until heated through.  I added a little garlic.  I don't think garlic is usually in this recipe, but I like garlic!  When the meat is heated through, remove it from the pan.
Add a little oil to the pan and sautee the onions and mushrooms until slightly carmelized.  Add sliced green peppers if using.  Cook until good and soft and yummy looking.
Add the meat back into the pan, and when thoroughly heated through (add some Worcestershire Sauce, if using), push meat and veg mixture together into the shape of your roll, and top with sliced or shredded cheese.
Cover with a lid, if necessary, until the cheese melts.
Cut the roll horizontally about ¾ of the way through.  Remove the meat mixture from the pan with a spatula, and place into the roll.
Add mustard, if you like, and serve with pickles.  This is approx. 2 servings so you can share, or save part of it for the next day…. if you don't eat the whole thing yourself!
Enjoy!