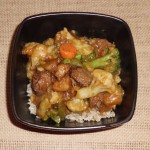 "Beef" Cubes- 1 pouch
Vegetables- your choice, frozen, 2 packages
Golden Curry Sauce Mix- 1 package
Water- 2 cups
Oil
I've also made this with fresh vegetables, curry powder, and other spices, but this is a really easy, quick and delicious version.
Saute "beef" cubes in oil on medium heat.  Meat is already "browned" but saute until there is a slight crust.  This helps keep meat from falling apart.  Remove from pan.
At the same time, heat veggies in microwave per package directions, but heat for a minute or so less than stated in the directions.  Add to pan.
Add 1 1/2 cups water to the pan, and break in curry sauce mix.   It comes in block form,  like a candy bar.
Stir on medium until sauce thickens and veggies are well coated. If you'd like it a bit more saucy, add the additional water.
Only add beef back into the plan shortly prior to serving or "meat" will become tough.
The beef cubes I use are already seasoned, and even if the brand you choose is not, the curry tastes so great you shouldn't need to add any additional seasonings.  Simple!
Serve with couscous or rice.
(Leftovers can easily be reheated, but reheat the "meat" covered by the veggies or the meat will become tough.  Basically, you want to warm the "meat," not nuke it.)