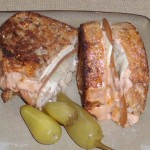 I was SO ready to have some bread by the end of Passover this year (see blog post, "Let Us Eat....  Bread") that I thought I'd come up with a comforting sandwich that brought back memories.  Shades of the delicatessens in NYC!
Rye Bread or Whole Grain Bread- good quality
Veg Turkey or Ham
Swiss "Cheese" or Pepper Jack
Sauerkraut
Thousand Island Dressing, or
Mayo, Ketchup, Pickle Relish- mixed*
Butter or Margarine
Cooking Spray
Pickles or Peppers
I used Whole Grain Bread and sliced it myself so I'd have thicker, toastier bread slices.
For each sandwich, set out 2 pieces of bread and coat the sides facing up with Thousand Island Dressing or your home-made mixture.  *If you make your own you can add onion, hot sauce, sugar, salt and pepper, as you like. But, I like straight mayo, ketchup, and relish.
Add slices of Turkey or Ham on one of the bread slices.  Top with a slice of cheese, then sauerkraut.  Then, more cheese.  You can add more meat, but I thought I already had plenty on the sandwich.
Drain the sauerkraut before putting it on the sandwich.  You can warm it slightly in the microwave (carefully) before putting it in the sandwich, but I left it somewhat cooler than room temperature for a "pop" of cold kraut in the middle of the sandwich.
Turn the other bread slice over on top of the sandwich and press down slightly to compact.
Melt butter or margarine in a pan and when sizzling, add the sandwich to the pan.  On the bare piece of bread facing up, rub with butter or margarine, and/or spray with cooking spray.
When the bottom side is toasty and brown, flip carefully.  And… when the other side is brown, your Reuben is ready!
Cut in half and serve with pickles or peppers.   Memories of a New York deli!
(The only thing I might have changed is to make the bread slices a little thinner so the sandwich would heat through more easily.  But, I loved the crunch of the toasty bread, and the sandwich was heated through just fine for me.)
Make sure you have plenty of napkins!  Delish!