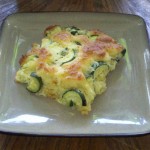 Another one bowl, one baking pan meal.  My   Mom used to make this, and you can vary the veggies.  Really fast and comforting.
Zucchini – 4 small, sliced*
Shredded Cheese- large package or shred what you like
Eggs- 3+
Onion Flakes
Salt
Oil
Baking Spray
Biscuit/Pancake Mix
Put sliced zucchini in large bowl.  In a separate bowl beat eggs with a splash of oil.
Spray square baking pan with baking spray.
Add egg mixture to zucchini and toss.  Add approximately 1 cup Biscuit/Pancake mix (I hate giving measurements but I don't want you to be totally lost!), and a sprinkling of onion flakes.  Mix.
The mixture should be a bit "crumbly."  If it is crumbly the result will be more solid.  If it is softer, it will be more quiche-like.
Add salt if needed, but Biscuit/Pancake mix has salt in it.
If you want it to be more solid, add more Biscuit/Pancake mix.  If you want it to be more softer, add another egg, a bit more oil, and a bit more cheese.
Pour into pan and bake at 350 for approx. 30 mins.
Test with a knife or toothpick in the center, like a cake.  If it comes out clean, it's ready.
Remove from oven.  Let sit for a few minutes, cut, serve, and enjoy!
*Small zucchini are younger, sweeter, and have fewer seeds.  You can also make the quiche with broccoli.  But, in order to be quick, I use either frozen broccoli florets or chopped broccoli and nuke it for a shorter period of time than listed on the package.