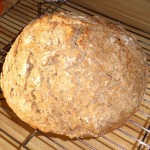 For some strange reason I have been DYING to bake bread lately.  It's been pretty frustrating, though, because yeast and I don't get along.   Nothing ever rises because there's no "warm place" to leave the dough.  I've tried all the tricks and had dough do all sorts of things but rise properly, so I gave up.  I've had a bit of luck, a couple of times, with focaccia, but not "tear off a chunk and eat it with stew, or soup" kind of bread.
THIS is that kind of bread.  I combined tips and tricks from other recipes and yesterday make a great loaf of whole wheat bread in just over an hour, a few minutes to prepare and mix, and an hour in the oven.  Just amazing!
I know I don't usually give specific recipes, but when baking you really do need specific amounts as a chemical reaction is required in order to bake.  You have to try this!
3 cups flour (I used a good brand of whole wheat)
2 T sugar
3 t baking powder
1 t salt
12 oz beer (something you'd actually drink)
A 3-qt. dutch oven (something like Le Crueset or other brand)
Preheat the oven to 375 F and put the dutch oven in the oven.  "Sift" dry ingredients together in a bowl.  Forget the sifter (unless you like using it).  I just gently spooned the flour into the bowl by half-cups, added the other dry ingredients, and stirred and fluffed it up with a fork.
Add the beer and continue to mix with the fork.  I changed to a silicone spatula (scraper) to be sure all of the dry ingredients were mixed in off the bottom of the bowl.
When the oven is ready remove the pot, carefully, and spray with cooking spray.  The mixture in the bowl doesn't need to be kneaded, but you might want to shape it a bit before putting it in the pot...  carefully.
Bake with the top on for 40 minutes.  Remove the top for another 20 minutes, and remove from the oven.  Let it cool in the pot for a couple of minutes and then place bread on a cooling rack.
Let it cool...  and then EAT.  The crust does soften overnight as most breads do, but its delicious toasted.  Just imagine all the variations you can come up with!
Enjoy!