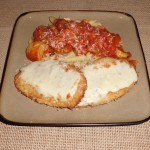 This dinner is really easy if you make the pasta and sauce the day before or earlier in the day, as the cutlets take just a few minutes.  Use your favorite bottled sauce, or throw together a quick marinara sauce.  (Let me know if you'd like me to post a recipe.)
Chicken Cutlets
Flour
Panko Bread Crumbs- CRUNCHY Japanese breadcrumbs, in the Asian section
Mozzarella
Parmesan- "veg" cheese, grated or sprinkled
Egg- beaten with a bit of water
(Bean Liquid, if needed.  See below.)*
Olive Oil
Pasta
Pasta Sauce
Zucchini
Onion
Assorted Italian Spices- Garlic, Basil, Oregano, etc., if needed
Defrost the required number of chicken cutlets.  Since this isn't real meat it's no problem to leave them out on a dish (covered) to defrost.  Don't defrost in the microwave.
When defrosted, press lightly to flatten somewhat. Start heating oil in a pan on med-high and sprinkle some flour in one flat dish, put the beaten egg in another dish, and the Panko in a third dish.
Lightly press cutlet into flour on one side, then the other, and shake off excess flour. Dip into egg (both sides) and let excess drip off quickly, press lightly into Panko (both sides), and gently place into pan….. away from you in case oil splashes.  When golden brown on one side, carefully flip.
When done, remove from pan with tongs and let excess oil drain.  Place on tin foil.  When cutlets are all done and on foil, cover in mozzarella cheese and broil until cheese is melted.  Serve with pasta and zucchini.  Sprinkle with your favorite parmesan cheese.
Note- Saute sliced onion and zucchini (don't slice zucchini thin or it will fall apart) and either add to sauce, or serve as a side dish.
Use the spices to make sauce and/or to season the flour and Panko if the cutlets are not already seasoned.
*Been experimenting with using bean liquid (from a can of white or garbanzo beans, for example, as a substitute for eggs. Its a similar consistency, and if you prefer not to use an egg [which I no longer do], try a bit of bean liquid!)
Enjoy!