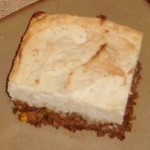 Comfort food......  "meat" and potatoes. Can you tell I really like potatoes? The first time I made this I was so excited to try it, I didn't let it "settle" and cool off slightly, and the potatoes slid right off the meat. Try and give it a few minutes before you cut out the portions!
Vegetarian Ground "Meat"- 3 pouches
Carrots- peeled and sliced small
Peas- handful, frozen
Parsnips- peeled and sliced small
Potatoes- 6 large (mashed) or pre-packaged mashed potatoes
Worcestershire Sauce
Bay Leaf
Veg Broth
Xanthan Gum- or flour or cornstarch
Salt
Oil
Baking Spray
(Milk and butter if making your own mashed potatoes)
Sautee ground "meat" on medium in a bit of oil until it is a slightly "caramelized."  The trick to using veggie meats is to be sure the outside is browned well so the product stays together.
While sautéing, add carrots and parsnips.  Peas, a bit later, as they are already cooked.
Add a bay leaf (remember to remove it later!), and a bit of Worchestershire Sauce.  Use the herbs and spices you prefer, but Shepherd's Pie is not known as a very "herb-y" or "spice-y" dish.  It's pretty mellow.  Also, check the ingredient label on the "meat."  Some already have seasonings, some don't.  Add salt if needed.
Mix a bit of xanthan gum with veg broth, and add to mixture in pan to add "stickiness" to the meat.  You can also use a flour or cornstarch mixture.  (I happened to have xanthan gum. lol)  Stir.  Add peas.
Spray a baking pan (round or square) and pour in meat mixture.  (Did you remove the bay leaf???)  Press down slightly, and add mashed potatoes on top.  Leave some peaks.  They brown nicely.  I forgot last time and missed seeing them.
Bake at 350 until heated through and browned on top.  Remove from oven, and let rest before serving.  As you may have seen in the original photo, I didn't let it rest long enough and the potatoes "shifted."  But, my stomach never knew the difference and it was delicious anyway!
If any is left, it will be more settled and won't "shift" on the second day.  Enjoy!