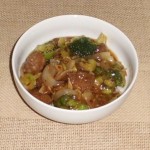 Beef "Tips" or Strips
Veg or  "Chicken" Broth
Garlic Powder or chopped garlic
Broccoli Florets – 1 package or fresh/cooked
Onion- sliced
Soy Sauce
Oyster Sauce (doesn't contain oysters)
Brown Sugar
Crystallized Ginger- chopped
Orange Marmalade*
Cornstarch mixed in small amt of cold broth
Oil
Red Pepper Flakes
Orange Peel*
Dried Szechuan Chili Peppers*
Sauté beef tips until heated through, add a bit of garlic powder, sauté a bit more to combine flavors, and remove from pan.
Add a touch of oil and sauté onion until opaque.  Add chopped crystallized ginger.  While sautéing, prepare broccoli until nearly cooked through, and keep separate.
Add about a cup of broth to the pan and flavor with soy sauce, brown sugar, oyster sauce, orange marmalade, and red pepper flakes.  Taste as you go.  Need more sweetness?  Add brown sugar.  Need more orange flavor?  Add marmalade.  Need more depth?  Add soy sauce and oyster sauce.  Need more spice?  Add red pepper flakes.
When the taste is where you like it, bring to a simmer, stir cornstarch mixture to combine and drizzle it into simmering mixture to thicken the sauce.  Adjust seasonings one last time!
Carefully mix broccoli and meat into the sauce.  Serve over rice.
As sweet, or spicy, as you like it!
*Take note whether you use regular or "sweet" marmalade.  You might need more, or less brown sugar.  For a more traditional dish, sauté slivered orange peel (orange part only) and Szechuan chili peppers with the onions.  No need to add red pepper flakes, and marmalade can be reduced.  You can always add more.  lol
Enjoy!