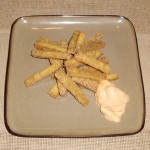 So much fun to find something out-of-the-ordinary to do with tofu. Crunchy, and a bit chewy.  And, yes, you can use ketchup for a lower fat version, but I just love the spicy mayo, like I used to eat  on my "frites" in Europe!
Extra Firm Tofu
Baking Spray
Mayo
Sriracha
Salt
Remove tofu from package and squeeze gently between paper towels to remove additional moisture.
Slice tofu block into thick "fries."
Spray baking sheet with baking spray and spread fries carefully on tray.  Spray fries, as well.
Bake on 350 in middle of oven for approximately 30 minutes.  Carefully turn over each fry and continue to bake until golden.
While baking, add Sriracha to mayo to desired spiciness.  Start with a smaller amount than you think you'll need.  You can add more!  (Yes, you can eat them with ketchup if you have to, it IS less fattening, but I have a thing for the spicy mayo.)
When fries are sufficiently golden, sprinkle with salt, and enjoy!  (Don't overcook them!)