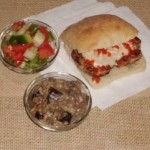 Grilling season is in full swing, and aren't you already tired of veggie burgers and veg hot dogs?  How about something different?  A Chicken Breast Burger!  When I started playing around with the three versions of this recipe I was surprised to find so many spices and side dishes in common (check out my blog post, "It's a Small World).  You could easily set out an assortment of spices and side dishes at a gathering and let people make their own!  Here's the Israeli version, with tips on the other variations at the end of the recipe.
Veg Chicken breasts
Really good Rolls- whole grain, yum!
Eggplant
Techina- Sesame seed dip
Garlic Powder
Lemon
Cumin
Cardamom
Tomato
Cucumber
Green Pepper
Onion
Sriracha, or Harissa- Hot sauce
Oil
Sprinkle the chicken breast with a little cumin and/or cardamom and grill or pan fry until heated through.  (Some brands are already seasoned, so add salt and pepper as needed.)  These are already "cooked" so they just need to be made good and hot.
For Babaganoush (eggplant salad)- Poke holes in the eggplant and grill or bake at 450 until soft.  When cool enough to handle, chop up the eggplant and add techina, lemon, garlic and salt, to taste.
Israeli Salad- Cut up tomato, green pepper and cucumber into small pieces.  (Add chopped onion, if you like.  I prefer it without.)  Dress with a little oil, lots of lemon, and salt to taste.
Grill or toast the roll, if you like, add the chicken breast, techina, and hot sauce.  Babaganoush and Israeli salad on the side, and…… my mouth is watering as I type!
For an Asian version, season the chicken breast with 5-Spice powder, teriyaki sauce, chili sauce, hoisin, sesame oil, garlic, as you like.  A great side salad would be pickled cucumber slices.  Mix thinly sliced cucumber with thinly sliced onion.  Add a bit of oil, vinegar, salt and pepper, and allow to "pickle" for a couple of hours.  I'd top the chicken breast with Sriracha, as well.  You know me and Sriracha.  Kimchi is a great side dish, too.  Also spicy!
For a Mexican version, season with cumin, chili powder, garlic, oregano.  Add salsa on top or on the side.  Tortilla chips for crunch and dipping.  You can easily grill flour or corn tortillas or toast in a pan, rather than using bagged chips.  Add sliced tomatoes, cheese, hot sauce, sour cream, guacamole, red and green chili sauces…..
My mouth is watering again!  Enjoy!