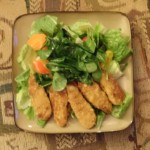 This is so easy it's not even a recipe.  It's barely even a description, because it's the easiest meal to throw together, and you know I'm all for easy meals.
This has really been a Go-To meal, lately, while I was getting my B12 and iron levels back up where they belong.  (Much better now!)  Extremely easy and SO incredibly yummy.  The textures, the temperatures.  You've got to try it!
Assorted salad  (I use bagged salad)
Assorted toppings  (hot and sweet banana peppers, roasted tomatoes, giardinieria etc.)
Fresh spinach
Chicken strips  (I used Gardein 7-Grain)
Salad dressing
Sauté chicken strips in olive oil (no, they don't HAVE to be baked as it says on the package, and yes, you need SOME oil in your diet) and when just about finished add spinach and sauté until spinach wilts.
While sautéing, mound salad and toppings on a plate.  When the chicken and spinach are finished place on top of salad.  Top with salad dressing.  (I really like Lite Caesar.)
Yes, you are putting hot chicken strips and hot spinach on top of cold salad, and it is delicious!
Enjoy!